Hot Air Balloon Teotihuacan
Location
Teotihuacan, State of Mexico
Language
Spanish and English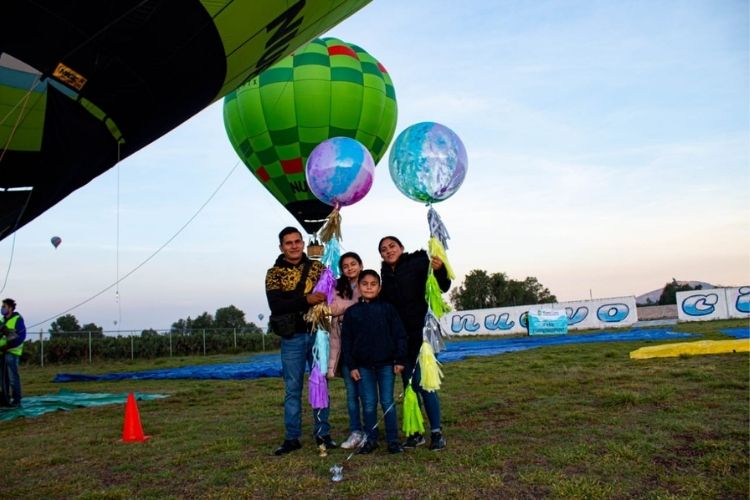 Hot Air Balloon Flight over Teotihuacan
Teotihuacan is one of the most visited archaeological sites in Mexico, it is without a doubt a must-see because it was one of the largest urban centers in the ancient world. Some pyramids like the Temple of the Sun have a height of 63 meters. Visit this wonderful site just 1 hour from Mexico City and 2 hours from Puebla City.
These incredible pyramids can be seen from above, it is an incredible experience that will be a great memory for life. On this tour, when you arrive at the facilities and register, you will enjoy a courtesy coffee. A few minutes later, you will see how the balloon that you will upload is inflated. Once at the balloon port, we will get into the basket, the guide will give us some simple instructions and that's it! take off!
Our exciting experience begins from here. The wind will take us through the impressive pyramids of Teotihuacan. The direction the balloon takes depends on the air currents. Take many photos of the wonderful views that Teotihuacán offers.
The trip lasts between 40 and 60 minutes depending on the weather conditions, remember to dress warmly. Upon return, our work team takes us to the same starting point. It is an activity that should be done at least once in a lifetime.
This tour starts in Mexico City or Teotihuacan (please check the options below)
We fill out the registration form
The guide gives us some recommendations
The balloon is inflated and we board 
We start the flight
In the air take incredible photos of Teotihuacan
We return to the office
Hot Air Balloon Teotihuacan from the balloon port
Adult Price $146 USD
Child Price (6 to 11 years old) $114 USD
* Price per person
Includes
Balloon flight from 45 to 60 min
Travel insurance
Certified Guide/Pilot
Flight certificate
Music on board
Coffee and cookies at checkin
Toast with wine at the end of the trip
Parking
* Appointment is at 6:10 am. It is important to arrive on time. There are no refunds in case of missing the flight due to being late
THIS TRIP DOES NOT INCLUDE: Lunch
Hot Air Balloon Teotihuacan from Mexico city
Adult Price $204.6 USD
Child Price (6 to 11 years old) $146 USD
* Price per person
Includes
Balloon flight from 45 to 60 min
Travel insurance
Certified Guide/Pilot
Flight certificate
Music on board
Coffee and cookies at checkin
Toast with wine at the end of the trip
Round transportation from Mexico City. Meeting point in «Angel of Independence«
Breakfast buffet
Entrance to the Teotihuacan archaeological zone
* Appointment is at 5:30 am. It is important to arrive on time. There are no refunds in case of missing the flight due to being late
THIS TRIP DOES NOT INCLUDE: Lunch
CONTACT us
+52 222 8601743 – Customer service and sales
info@quelocotours.com – Customer service, reservations and sales