HIKING TOUR IN CUETZALAN PUEBLA
Language
Spanish and English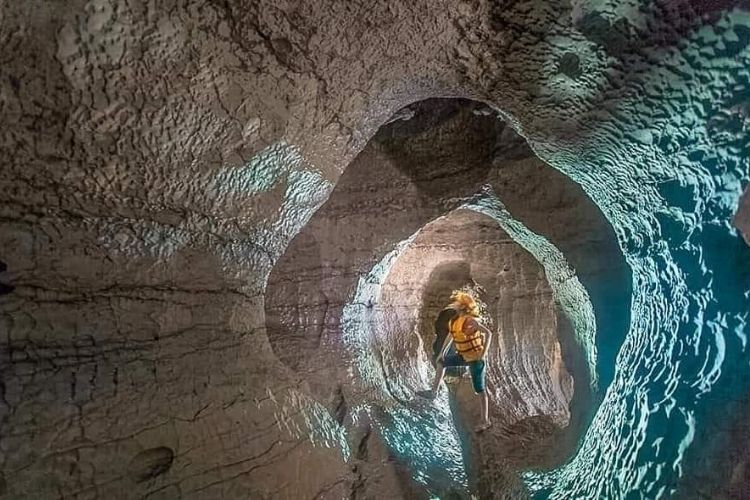 "Pata de perro" Grottoes tour
Hiking Tour in Magic Town of Cuetzalan
Experience an exciting hiking adventure in the north of Puebla. Explore the beauty of this unique and least-visited place.
On this excursion you will be visiting a natural pool of water, a cavern and an underground river. The «Pata de Perro» (Dog's Paw) is a natural pool of water formed by 5 small circles, in all of them you can swim and go from one pool to another since all of them are connected. Cuetzalan is one of the best villages in Puebla well known for its natural and cultural attractions. You will enjoy the wonderful views that this place offers.
The tour begins in the village of Cuetzalan, we pick you up in your hotel. Upon arrival we start walking towards the natural pool water but before that we´ll visit other natural sites in this exciting experience.
We will be hiking to an underground river called «La Garganta», we will cross this exciting grotto with our professional guide in a safe and fun way. We will visit the El Cántaro cavern, a very special and beautiful place. We will also visit the «Sacred Canyon» and the «Encanto» waterfall, wonderful and unique sites rarely visited by tourists. We will swim in the wonderful pool «Pata de Perro» and return to the city of Cuetzalan. Get out alive to tell the tale.
The tour lasts between 5 and 6 hours, depending on the physical condition of the group, we make continuous breaks to enjoy the views. The walk is suitable for children and adults although it has a moderate level of difficulty.
This tour starts in Cuetzalan, Puebla. Our guide picks you up at the hotel in Cuetzalan

After arrival, the guide gives us some recommendations

We start the walk

We pass through the points, you will swim and walk through these unique natural areas

We start the return to get to the vehicle

We return to the hotel
CONTACT us
+52 222 8601743 – Customer service and sales
info@quelocotours.com – Customer service, reservations and sales